Retriever Training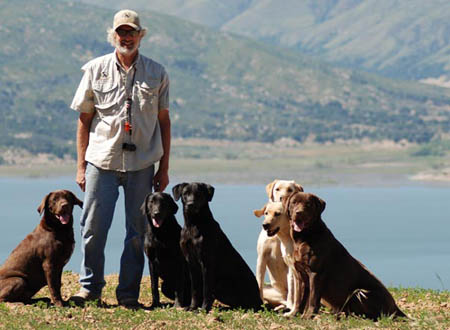 Steve Raney is a self-taught trainer and has worked with some of the best trainers in the country to perfect his training program. He is always studying new developments and will give each individual dog the training and needs they will require to be the best companion and hunting partner that they can be. We offer conditioning, boarding with exercise, obedience training, puppy head start programs, basic gun dog training, advanced gun dog training and transition into the Hunt Test training programs.
Programs
All fees include feeding, boarding, birds and training. There are no hidden training costs. All dogs must have the bordetello vaccination and immunizations must be up to date for the safety and health of each dog. It is recommended that all dogs be current on monthly heartworm and flea and tick preventative medication as we are located in a rural wooded area. Dogs not on heartworm preventative need to be tested for heartworm by a veterinarian before they start their training. Heartguard and Frontline can be provided each month at the owner's expense.
Boarding with Exercise
Dogs are aired and exercised three times a day approximately 20-30 minutes with an opportunity to retrieve and swim.
Boarding with Conditioning
Dogs are retrieving bumpers and/or birds twice a day on land and/or water using whistles and launchers. This program is great for a trained hunting dog getting ready for the hunting season or a hunt test or field trial dog getting ready for a hunt test or a field trial.
Obedience Training – On Lead & Off Lead
(2 months) The dog stays at our kennels during their training and housed in individual runs. This includes sessions with you, your dogs and the trainers, as well as any follow up sessions you may need.
Puppy Head Start
This is for pups 18 weeks to six months old. Introduction to water, birds and basic obedience commands. Our goal is to make each puppy as birdy as possible and to love the retrieving game. It is an introduction to the skills needed for more advance Gun Dog training.
Basic Gun Dog Training
(4 to 6 months) Introduction to basic training is for dogs at least 6 months old. Obedience is the foundation of all retriever training. Obedience includes sit (stay), here and heel. At this time we condition the dog to the collar, teach to stop on a whistle, force fetch, stick fetch, single retrieves and steady. We begin to teach the dog double retrieves and to quarter the field.
Advanced Gun Dog Training
(4 to 6 months) At this time we teach hand signals by teaching force to pile, stick to pile, T, double T and swim by. We then teach pattern blinds, blind drills, diversions with pattern blinds, cold blinds, water blinds, multiple blinds and lots of singles off multiple guns.
Hunt Test Program
(4 to 12 months) This program includes perfected handling, literal casting, casting mechanics, carry a straight line, land and water triples, how to fight the factors and meeting the needs of each individual dog to compete in AKC Senior and Master Hunt Test.
See our latest Hunt Test results or
Learn more about Hunt Test
Transition Program
Transition from the yard to the field. Pattern blinds, blind drills, diversions with pattern blinds, cold blinds, water blinds, multiple blinds, and lots of singles off multiple guns.
Trained dogs for Sale
Contact us for an updated list