Master National Results & Hall of Fame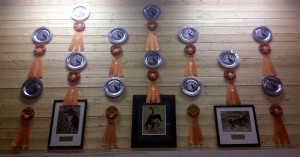 Master Nationals is an annual invitational at the end of the hunt test season. A dog must qualify for the event by getting six master hunter passes through out the year. The Master Nationals is held in a different venue each year. It is a grueling eight day event that consists of six individual series. A qualified dog must pass each series, with high marks, in order to be called back to the following series.
When a dog passes all six series they receive a Master National Pass. A dog may compete year after year. After a dogs third pass, they are inducted into the Master National Hall of Fame. This is the highest award that a hunt test dog can receive. It changes their pedigree suffix to MNH.
2015 AKC Master Nationals
The AKC Master Nationals are right around the corner. The event is October 17th-25th in Cheraw, SC. Steve will be heading there with a truck full of some the best hunting dogs in North America. For more information, check out their website.
Here is a list of the qualified dogs Steve will be running at the AKC Master Nationals this year:
Sureshot's Rio De Dinero MH, MNH5
Fullcircle Wings On The Wind MH, MNH3
Kodiak of Raney's Gator'd Tank MH
Juhnke's Sir Woodrow MH
Froghollow's Cumoran Rebel MH, MNH4
Raney's Ria De Latte' MH, MNH3
Raney's Lana Del Rey Wood MH
Carranzas Truemark Raney MH
Fireweed's Sum-r-million Dollar Babies MH
Barbara Martin will also be joining Steve on the Raney Ranch truck heading to South Carolina. She will be running both of her qualified dogs:
Sunnyviews's Ironwood Beckett 2 MH, MNH
Wood River's Double Barrel Believer MH
Raney Ranch Hall of Fame dogs
Sureshot's Rio De Dinero MNH5
2008, 2009, 2011, 2012, 2013
Froghollow's Cumoran Rebel MH, MNH5
2010, 2011, 2012, 2014, 2015
Raney's Ria De Latte' MH, MNH4
Raney Ranch dogs with Master National Passes
Raney's Tank Her To The Top MH
Watermark's Instigator MH