Hunt Test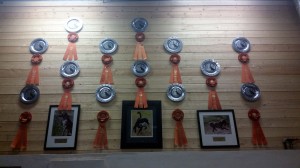 A hunt test is an event where the natural ability and training of gun dogs are evaluated against a written standard. During a hunt test, each dog that meets this standard earns a pass.
This is unlike a field trial in which dog/handler teams compete against one another with only one dog being declared the winner.
Hunt tests are organized by the American Kennel Club (AKC), the United Kennel Club (UKC) under the auspices of the Hunting Retriever Club (HRC), and the North American Hunting Retriever Association (NAHRA).
When a dog earns it's first hunt test title, they then move to a more stringent standard, and the process starts over. As the dog progresses through the hunt test process, the titles become more prestigious. Most gun dog owners enjoy hunt tests in the off season just as much as hunting.